Upcoming Events At Joe Muer Seafood
The Most Exquisite Gifts come in Small Packages
Give them a passport to world-class dining with a gift card from Joe Muer Seafood.
Purchase at our Bloomfield Hills location, Detroit location, or order online here.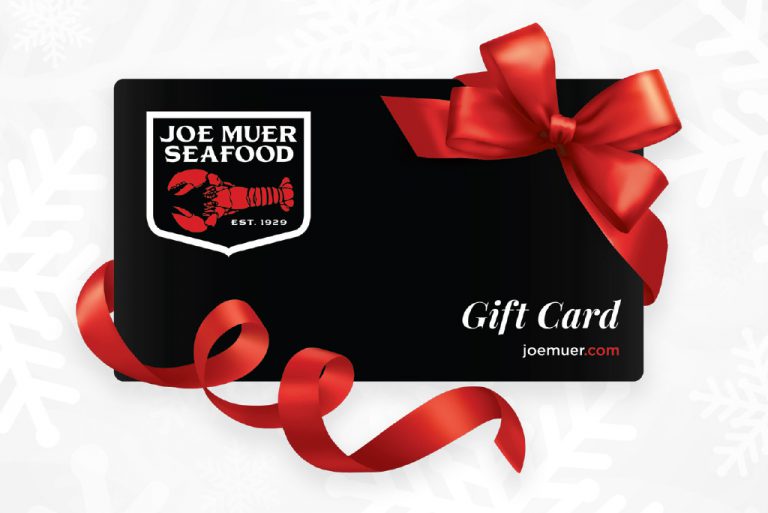 A Joe Muer holiday party is the gift your guests will remember.
With fresh, artfully prepared seafood, premium aged meats, impeccable service and unparalleled ambiance – Joe Muer Seafood is the perfect place to celebrate the season! Now accepting reservations for private parties!
Celebrate
NEW YEAR'S EVE!
Monday, December 31
RING IN THE NEW YEAR WITH DETROIT'S BEST SEAFOOD
Enjoy live entertainment, complimentary party favors and a champagne toast at Midnight!  Reservations are now accepted.
Thank you FOR VOTING US BEST IN DETROIT
Joe Muer has been awarded HOUR Detroit Best View, Best Seafood Restaurant, Best Maitre D' and Best Sommelier 2018
Make your reservations today!
SUNDAY BRUNCH

Joe Muer features one-of-a-kind brunch dishes in an outstanding atmosphere.
Bloomfield Hills: Sundays, 10am-3pm
For reservations, call 248-792-9609
Reservations are required. Please mention you will be using our complimentary limo bus service when making your reservation. Available at our Detroit location only.
COMPLIMENTARY SHUTTLE
We offer complimentary limo bus service to Red Wings games and some of Detroit's hottest events!  Shuttles will run for these special events:
John Legend – Dec 6 • Fox Theatre
Manheim Steamroller Christmas – Dec 16 • Fox Theatre
Moscow Ballet's Great Russian Nutcracker – Dec 23 • Fox Theatre
Trans-Siberian Orchestra – Dec 29 • LCA
Cirque du Soleil Corteo – Jan 10-13 • LCA
Cher – Feb 12 • LCA
Sarah Brightman – Feb 13 • Fox Theatre
Eric Church – Feb 15 • LCA
Kelly Clarkston – Feb 21 • LCA
2 Cellos – Feb 23 • Fox Theatre
Reservations are required. Please mention you will be using our shuttle service when making your reservation. Only valid at Detroit Location. For Reservations, call 313-567-6700
Family owned and operated
Joe Muer Seafood is part of the Joe Vicari Restaurant Group. The Vicari family not only owns the group, but they operate and monitor all of their properties personally to ensure the highest quality of food and service.
HOUR Detroit's 2018 Best Seafood Restaurant, Best View, Best Maitre D', Best Sommelier.
HOUR Detroit's 2017 Best View, Best Service, Best Seafood Restaurant.
HOUR Detroit's 2016 Seafood Restaurant of the Year.
HOUR Detroit's 2015 Seafood Restaurant of the Year.
HOUR Detroit's 2012 Restaurant of the Year.
How it all Began
We are proud to continue a tradition of dining and service excellence that began in 1929. Enjoy classic fresh fish and creative seafood specialties, sparkling service and the best riverfront views in Detroit.
A Modern Muer
The décor of Joe Muer Seafood is inspired by the classic 1960s retro era, complimented by exquisite contemporary designs. We will continue with the Muer legacy — providing the finest service and the freshest seafood — guaranteeing a remarkable dining experience, no matter the occasion. The marriage of impeccable service and cuisine that is second to none, Joe Muer Seafood has set the bar for all other Metro Detroit seafood restaurants.
The Raw Bar at Joe Muer Seafood
"Belly-up" and enjoy fresh shucked oysters at the traditional Raw Bar, or turn the corner and find a seat at our remarkable blue granite Sushi Bar. Spend part of the evening with new friends at the Piano Bar, but be sure to come early if you want to reminisce in the vintage "Joe Muer Lounge".
So please, treat yourself to all that we have to offer. Whether it's your first introduction to Joe Muer Seafood, or you're anxious to reacquaint with an old friend, we know dining at Joe Muer Seafood will be an experience to remember for another 90 years.
You deserve only the
freshest seafood &
finest service
"LOOOVE Joe Muer Seafood, eat there whenever we are in Detroit & never disappointing. The service is always exceptional. The history of the restaurant is interesting. Consistently excellent food and service. We'll keep going back!"
"The food here is always amazing and the service is incredible. Been a frequent visitor for years and this restaurant always nails it from great consistent food to impeccable hospitality!"
"All four members of our group loved their dinners. Plenty to choose from. Our server was knowledgeable and attentive. The food was well presented. We are from out of town but would make a point of going there again when we return to Detroit."
"Great food for special occasion. Favorite dessert the coconut cake. Like the validated parking as well. The location is great and views of Canada are awesome.  Ambiance is perfect. For fresh seafood this is the place to go. So far favorite downtown restaurant for hubby and I."
"Had dinner just before the Christmas tree lighting downtown and what a way to kick off a great evening. Calvin was our server and seemed to know what we wanted before we even knew! I had the lobster pot pie (not on the menu) and I think it is my new favorite dish. Couldn't have been better."