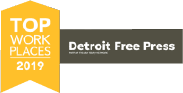 New Employee Bonus
Earn up to $750 in Bonuses
---
When you become a member of our team, you also receive the opportunity to earn up to $750 in bonuses based on achieving specific JVRG career milestones.
Referral Program
Earn up to $1,000
---
As a current JVRG team member, you can earn up to $1,000 when you refer the perfect job candidate to one of our Michigan restaurants.
Scholarship
Receive up to $2,000 for Tuition
---
We support our team members pursuing their education by giving scholarships to those enrolled in a college, university, or trade school.
Join our dynamic team—the Joe Vicari Restaurant Group, home of Metro Detroit's best-loved award-winning restaurants. For over 30 years, Detroit restaurateur Joe Vicari has opened restaurants based on three basic principles: fresh, authentic cuisine; impeccable, attentive service; and a warm, inviting ambiance. We pride ourselves on providing this same atmosphere to our employees. We have many opportunities for training, advancement, and growth from within.
Passionate
Hard-working
Positive
Punctual
Professional
Willing to go above and beyond
Responsible for each other's actions and successes
Part of a team that works for a common goal
Valued, heard, and appreciated
Part of our family of team members
WE ARE ALWAYS
ACCEPTING RESUMÉS FOR THE FOLLOWING POSITIONS:
"We are fueled by our passion for what we do every day: delivering exceptional service and fine cuisine to our valuable guests, every meal, every request, every time. We are a team and family committed to each other's success and doing the right thing, even when no one is looking."